City Harvest – Rescuing Food For New York's Hungry | Brio Benefits
City Harvest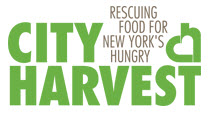 Founded in 1982 as the world's first food rescue organization, City Harvest is dedicated to helping feed the more than 1.4 million New Yorkers facing hunger.  City Harvest will collect 50 million pounds of excess food from restaurants, grocers, bakeries, manufacturers, and farms, and deliver it free of charge to more than 500 community food programs across the city this year.  In addition to helping meet the immediate need for food, City Harvest takes a long-term approach to fighting hunger by partnering with residents, local organizations and businesses through Healthy Neighborhoods programs which increase the availability of affordable fruits and vegetables in low-income communities and provide the nutrition education and resources to maintain a wholesome, food-secure diet.
City Harvest advocates at the city, state and federal level for programs, policies and actions to alleviate hunger and food insecurity. We are working to ensure that all New Yorkers have access to healthy, affordable food.
Nearly 20% of New Yorkers currently live in poverty, struggling to afford basic necessities such as rent and medical care and put food on their tables.
City Harvest helps feed the more than 1.4 million New Yorkers facing hunger each year.
We rescue some 136,000 pounds of food each day.
We regularly give food to more than 500 community programs.
It costs City Harvest just 25 cents to rescue and deliver a pound of food.
93 cents of every dollar donated directly supports our programs fighting hunger in New York City.
In our first month, City Harvest served 55 community food programs in New York City. Today we help feed people at more than 500 programs. Our goal is to grow our operations to address the demand for emergency food.
City Harvest serves more than 500 soup kitchens and food pantries across New York City's five boroughs.
If you are in need of emergency food, call the New York City Hunger Hotline at 866-888-8777 FREE to find the program nearest you.
charity
,
city harvest
,
community food
,
food donation
,
homeless
,
hunger
,
new york city
,
poverty