Industry Differences Among Health Savings Accounts | New York Benefits Broker
By Bill Olson
Chief Marketing Officer at United Benefit Advisors
While recent survey data shows that, on average, employers are decreasing the amount they're willing to contribute to employee Health Savings Accounts (HSAs), there are some industries that have not seen such trends.
On average, employees saw a 10 percent decrease in their average single HSA employer contribution from the previous year, from $574 in 2013 to $515 in 2014. Employees in the public and government sectors, however, continued to have the most generous HSA contributions, at $791 for singles and $1,431 for families. Conversely, workers in the following industries see the lowest average single employer contributions toward HSAs: food services ($279), retail ($323), wholesale ($398), construction ($434), health care/social assistance ($472), and mining/oil and gas extraction ($831).
Some may see these trends as counter-intuitive. However, upon further examination, it becomes clear how employers are using HSAs to supplement plans and drive employees where they ultimately want them, which is toward cost-saving consumer driven health plans (CDHPs). The link between CDHPs and HSAs helps explain industry differences in health plan costs, but demographic differences are also a part of the story.
"Construction companies typically hire young men who demographically don't place a lot of value in benefits. Government, on the other hand, has traditionally substituted salary for benefits; one way to move those employees off an expensive plan is to fully fund their deductible," says Brian M. Goff, President & CEO of Insurance Solutions, a UBA Partner Firm. "But carrier motivations can also be at play. Some carriers give a certain premium discount to go to the high deductible plan. So if you have a low premium, i.e., construction because of a young male demographic, the premium may only come down $800 a year to add a $1,500 deductible. On the other hand, take a nursing home that has expensive premiums, the savings may be $1,700 to add a $1,500 deductible, making it a no-brainer to switch to an HSA plan."
The strategy of attracting employees to CDHP plans with generous HSA contributions has worked in the finance and insurance industry as well, where 32.3 percent of plans are CDHPs (the highest of any industry) and enrollment is 32.1 percent (also the highest enrollment of any industry). HSA contributions in the finance and insurance industry are at $634 for singles and $1,074 for families, 20.7 percent and 18.7 percent above average, respectively.
The opposite trend can be seen in the mining/oil and gas extraction industry, however, where only 16.7 percent of plans offered are CDHPs, and employer HSA contributions are also among the lowest. Correspondingly, CDHP enrollment in this industry is a mere 8.5 percent.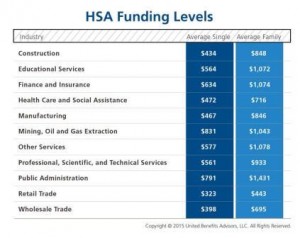 For the latest health plan cost trends, download the UBA Health Plan Survey Executive Summary. To benchmark your plan to others in your region, industry or size bracket, contact a UBA Partner near you to run a custom benchmarking report.
2014 Health Plan Survey
,
consumer-driven health plan
,
health savings accounts
,
HSA
,
HSA funding